Private Events
Holding your next big event at Let's Paint guarantees you an entertaining and unique experience. Whether it's for a big birthday or bridal shower, skip the headache and routine of the big restaurant table or messy house and give us the chance to make your occasion memorable.
Sit with your friends in a private setting. Bring food and beverages for your guests at a fraction of the cost restaurants charge. The studio has great lighting and instruction that is projected on the walls to allow for better viewing.
Our two spacious studios are ideal for:
Birthdays
Moms' clubs
Holiday parties
Bridal and baby showers
Clubs and sports banquets
Homeschool events
Reunions
Continuing education events
It's as easy as 1-2-3:
For your party, pick a painting from our gallery here. If you prefer our artists work with you to create a customized piece of art, we can do so for a fee of $50. Adequate time (about 2 weeks prior to your event) is needed for you to work with our artist to produce your artwork. For example, if your daughter just adores "Elsa" from "Frozen," but it is not in our gallery, we will work with you to develop a portrait of Elsa that your daughter and her friends can paint at her party.
Book now by following the links below! We have special kids art classes available as well!
Bring all the snacks, drinks and decorations your heart desires and let those creative juices flow! Or, we can provide you with information on catering your event. We have discounts with local restaurants. Parties can be hosted at one of our two spacious studios or we can bring the party to your home or business. In order to book an event, there must be a minimum of 12 people participating. Book today.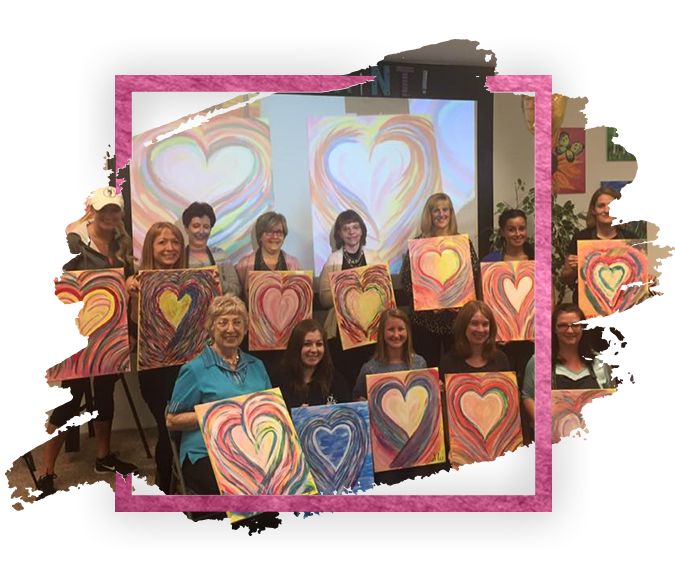 Our rates:
Adults: $35 per person. (Adult classes 18+ for private and corporate events including family and kids)
Group Discount: $30 per person. 50+ participants. (Adult classes 18+ for private and corporate events).
Kids: $25.00 per child. Kids classes and parties: ages 7 to 17.
$55 per person for Paint Your Pet classes.
Customized Art Work. $30 for Paint Your Pet.
$25 for parties. $50 to $150.00 for corporate events.
Booking Your Party: Parties can be scheduled any day of the week from 10 a.m. to 10 p.m., pending availability of the space and/or our artists. A deposit of 50 percent is required when the party is booked.
For Paint Your Pet: You must provide a head-shot picture of your pet a minimum of 2 weeks prior to the class. The artist will provide you with an outline and the appropriate colored paints to complete the portrait. There is an additional fee of $30 for the customized artwork. No refunds are available for this class. No discount coupons apply for private parties and paint your pet night.
Cancellations: Events can be canceled with 100 percent refund if done a minimum of 7 days prior to the event — except for "Paint Your Pet" and customized artwork. If events are not canceled within 7 days of the scheduled event, no refunds shall be granted.
Our studio can be rented. Our hourly rate is $100.
Our Studio A can accommodate 80 individuals and Studio B can seat 40.
Book A Private Event!Date Night - Birthday Parties  Book Your Kids Party!Special Rates for Kids Parties!